Sale!
Description
Second-hand Carbon Cleaning machines
We do very rarely get second-hand carbon cleaning machines in stock. There is also the chance to get a demo machine. Either demo or second hand machines all come either refurbished and serviced and always come ready to go. And as we are  the manufacturer you get our very own 12 month warranty. If you are looking for a machine please feel free to contact us to discuss the options and what we have available at the time. Do please remember that our machines are CE approved and fully tested, inspected and prepared ready for full professional use. Our second-hand machines offer very good value for money. Currently we have one mk3 and one mk4 machine. See our sister website enginecarbonsolutions.co.uk for the older one at £800.
Purchase options
Brand new machines available from stock. You can buy direct or through our approved distributors if you prefer. All machines come fully prepared and with warranty. For added piece of mind we never sell machines without warranty. So you can buy with confidence. Your new to you machine will provide years of service and we are always on hand to provide expert advice. Plus second hand and demo machines as and when available. For any information or to chat about our machines please feel free to contact us and one of our dedicated team will help you make the right choice for your business.
Call or email to info@enginecarbonsolutions.co.uk
Info
Dimensions – 300mm Height , 230mm Wide , 120 Depth
Power requirements – 12v dc supply from subject vehicle.
Fluid type – ECS Ltd special 11 chemical mix designed for petrol and diesel engines.
Vehicle types – 49cc to 8000cc petrol or diesel plus Mazda Rotary safe.
Benefits
Safe
Reliable
Versatile
Compact
Low cost of use
Low maintenance
Manufactured and designed by us in the UK and available from stock.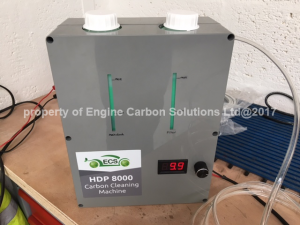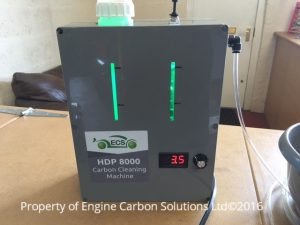 HDP 8000 mk4 on the left and mk3 on the right hand side.
Carbon cleaning machine fluid
Something we get asked a lot is how much fluid will I go through ? Well the simple answer is not a lot. Normally our dealers go through around 1 litre every 12 months. So not a lot. This makes it a cost effective way to do engine carbon cleaning. And remember our fluid is detergent based other products may damage your machine.
Contact Details
Address: