Sale!
£1,495.00
NEW !! ECS carbon cleaning machine. Ideal starter machine
1 in stock (can be backordered)
Description
ECS carbon cleaning machine
We have a new budget priced ECS carbon cleaning machine. Using some of the technology our machines have used for the last 20 years. This lower priced machine is not a compromise. We've stripped back our high end professional machine and made the technology accessible to all.
Benefits
So this machine is a great way to get into the engine carbon cleaning business without breaking the bank. The ECS carbon cleaning machine is a 12v machine powered from the subject vehicle. It can work on all engines from small 50cc engines to 8000cc engines. The electronics control the safe operation making the machine automatic with no adjustments necessary. Furthermore similar to our high end machines the built in timer stops the machine after 60 minutes. We use our patented machine fluid which differs from others as we use detergent based cleaning rather than trying to use hydrogen on it's own as hydrogen has no cleaning properties. A well proven design with full CE approval making it safe and legal to sell. Like all our products this machine is designed and built in the UK.
How much fluid does it use ?
Our machines atomise the fluid so it can last a long time. Most users can get around 1 year from the fluid before needing more. However it is possible to use de-ionised water to top up which will only dilute the mix a little over time. We sell the fluid in our online shop here on the website at just £60 per litre.
How to purchase
We only sell direct with this hand made machine. Every machine comes ready to use straight out of the box. And of course you get our 12 months warranty for further piece of mind. To get your machine just simply browse our website and add to cart. Available for £950 for a limited period only. All payments are protected and safe. For more information simply email us at info@enginecarbonsolutions.co.uk.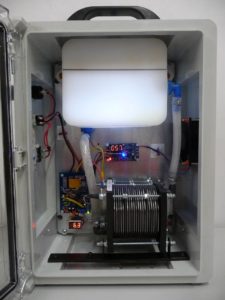 Contact Details
Address: