Description
ECS 6C Pro Carbon Cleaning Machine
The ECS 6C Pro carbon cleaning machine is here. This is our latest development using our extensive experience over the last 30 years. The ECS 6C Pro is our most advanced portable 12v engine carbon cleaner yet. Fully tested, CE approved and built here in the UK. A quality product for professional use.
Dimensions
12v DC powered from subject vehicle.
Fully portable.
Height 500mm.
Width 310mm.
Depth 230mm.
Weight 11.5kg (including packaging 12.5kg).
Safety features
Engine capacity working range – 49cc – 8000cc petrol or diesel engines.
Automatic timer shutdown (60minutes) per treatment.
Can be stopped at any point for shorter treatments.
Intelligent safety control.
Protection from high temperature and incorrect polarity.
Protection from low ambient temperature start up.
Low current consumption from vehicle (max 9 amps).
Hydrogen gas produced at 6 – 50 litres / minute for chemical transport.
Detergent based cleaning chemicals for safe use atomised for low consumption.
What you get
Low cost per operation.
Safe operation. Treatments can be repeated back to back.
Simple to use.
Easy maintenance.
12 months warranty.
Annual servicing provided by ECS Ltd includes further 12 months warranty.
Back up and support is provided free.
Adding to our website national dealer locator for direct contact by customers for free.
Designed and manufactured in the UK.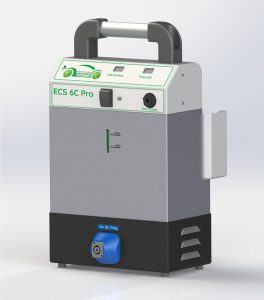 How to order your ECS 6C Pro carbon cleaning machine
We manufacture the ECS 6C Pro carbon cleaning machines here in the UK. All machines are available from stock. Each machine goes through a 6 hour test process. We are well known in the industry for our reliable machines but for piece of mind our warranty offers you further backup. Furthermore we offer telephone support and training for those new to carbon cleaning.  To get a thoroughly tested and CE approved machine then you can contact us direct or go to our approved distributors. For more information please email to info@enginecarbonsolutions.co.uk.
Contact Details
Address: